06/11/2021
At the Ordinary General Meeting held today, Friday 11 June 2021, the Registrars' Consultative Committee elected one of its two representatives to replace Safebrands:
Nameshield SAS, represented by Mr. Arnaud Wittersheim, nTLDs Project Manager and Compliance Officer.
Founded in 1994, Nameshield SAS assists companies in the management and the securing of their domain names portfolio in order to implement their digital strategy. A French independent registrar, it has been a member of Afnic for over 20 years.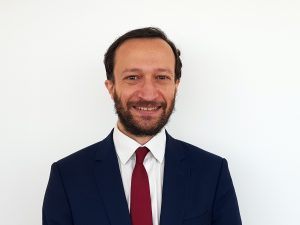 Arnaud Wittersheim is Compliance Manager and currently assisting customers with their new TLD plans across the entire life cycle. He has nearly 20 years of experience in various commercial, technical, legal, security and communication assignments with registrars. Arnaud Wittersheim has been attending ICANN meetings for a number of years and participates in working groups to take action within decision-making centres and to share a European vision of naming. He hopes to develop the consultation between Afnic and registrars in order to adapt to their needs. He will put his experience to the benefit of Afnic so as to work with the registry and its partners on a range of naming issues such as security and fight against abuse, technical and regulatory developments, end-user protection, digital sovereignty and control of digital data, service development to ensure recognition for domain names, promotion of a Francophone model in the domain name ecosystem, and innovation.
In accordance with Afnic's articles of association, the registrar Safebrands, represented by Frédéric Guillemaut, had submitted its resignation from its role as trustee as of the General Meeting held on this day, as a result of a recent capital transaction involving the registrar.
As the election falls under the exceptional circumstances of a resignation, Nameshield SAS shall take up a "replacement" term of office until June 2022, when the Safebrands term of office will come to an end. Nameshield SAS may then put itself forward for 2 consecutive terms, in accordance with the Association's Rules of Procedure.
Godefroy Beauvallet, Chair of Afnic, would like to thank Safebrands and Frédéric Guillemaut for his involvement on the Afnic Board of Trustees for many years and for this further demonstration of loyalty and commitment to Afnic, in the service of our community.
About Afnic
Afnic is the acronym for Association Française pour le Nommage Internet en Coopération, the French Network Information Centre. The registry has been appointed by the French government to manage domain names under the .fr Top Level Domain. Afnic also manages the .re (Reunion Island), .pm (Saint-Pierre and Miquelon), .tf (French Southern and Antarctic Territories), .wf (Wallis and Futuna) and .yt (Mayotte) French Overseas TLDs.
In addition to managing French TLDs, Afnic's role is part of a wider public interest mission, which is to contribute on a daily basis, thanks to the efforts of its teams and its members, to a secure and stable internet, open to innovation and in which the French internet community plays a leading role. As part of that mission, Afnic, a non-profit organization, has committed to devoting 11% of its Revenues from managing .fr Top Level Domain to actions of general interest, in particular by transferring €1.3 million each year to the Afnic Foundation for Digital Solidarity.
Afnic is also the back-end registry for the companies as well as local and regional authorities that have chosen to have their own TLD, such as .paris, .bzh, .alsace, .corsica, .mma, .ovh, .leclerc and .sncf.
Established in 1997 and based in Saint-Quentin-en-Yvelines, Afnic currently has nearly 90 employees.