12/15/2015
As of December 15, 2015, the information will be available on the website of the association and on the Etalab portal under the name OpenData.fr.

Overview of OpenData.fr
The OpenData initiative by the .fr TLD is part of the movement to enable free use of public data initiated by the Etalab mission.
In publishing several million items of data organized into three main sets on its website, Afnic provides a comprehensive overview of the activity of the .fr TLD:
public data on domain names;
the main business indicators for the French namespace;
a directory of accredited registrars.
All of the information is historized and dates back over two years. It will be updated every month.
The benefits for the French Internet community
With this initiative, Afnic seeks to encourage the reuse of the data for analytical purposes or for any other activity that creates added value for the community. Crossing the data for domain names under the .fr TLD with those of third parties is not only a vector for innovation but will also enable a better understanding of the uses of digital technology within France, as well as the identification of trends and even business opportunities.
Afnic has paid particular attention to the possibilities of reintegrating these data using automated formats and presentation rules that meet the requirements of the French government's data.gouv.fr platform.
For Mathieu Weill, CEO of Afnic: « Making the data from the .fr TLD available is a key focus in our innovation strategy to serve the Internet community. The knowledge potential enabled by the initiative illustrates Afnic's determination to help improve our understanding of the online presence of people in France. »
Terms of access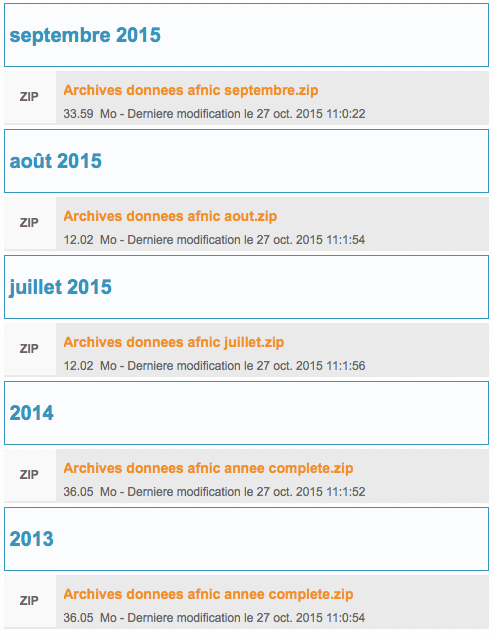 OpenData.fr is available under the "Open License" developed by Etalab. The license allows free, open reuse of the data.
Anyone can now freely use this common resource by downloading the files available at opendata.afnic.fr.