02/10/2015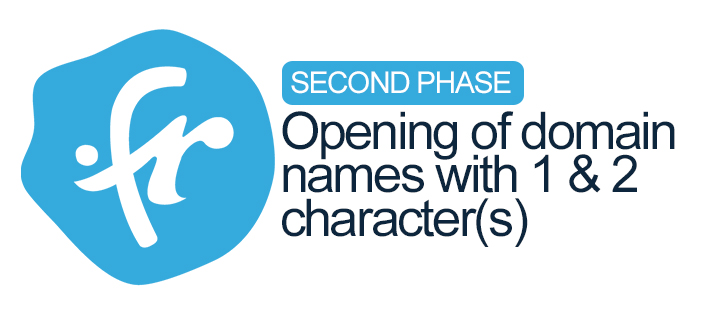 Since December 9, 2014, Afnic has allowed the registration of domain names under the .fr TLD consisting of only one or two character(s).
The first phase in opening these new short domain names, called the "Sunrise" phase, opened on December 9, 2014 and ended on February 9, 2015. During the first registration period, only rights holders could apply to register short domain names under the .fr TLD. 111 short domain names were registered during this phase.
On February 16, 2015, a new period opens, during which any interested person may register a short domain name under the .fr TLD which is still available, as listed below. During this second "Landrush" phase, a sliding scale is applied based on the calendar week in which the domain name is registered (the terms are specified in the registration rules). This system, with high prices for the first three weeks (starting at 15,000 euros per domain name and ending the fourth week at 100 euros), is designed to prevent the (high) value of domain names with 1 or 2 characters being immediately privatized by resellers. Given that a domain name is an intangible asset of a company, its acquisition cost at levels in line with the market is a long-term investment with regard to advertising prices.
Finally, as of March 17, 2015, the general public can purchase the domain names still available at the current rate for all of the .fr namespace.
Profits used to reduce digital inequality in France
The profits generated during this opening phase, as all those resulting from the management of the .fr TLD, will go to the future Afnic Foundation for Digital Solidarity, which is designed to support solidarity actions in the field using digital technology to improve social cohesion and enhance equal opportunities.
List of domain names with 1 or 2 characters available for registration from February 16, 2015
Calendar for current and future phases:
Landrush phase

From February 16, 2015 15:00 (UTC+1, Paris time) to March 17, 2015 14:59 (UTC+1, Paris time)

Period during which any interested party may apply for the registration of a domain name with 1 & 2 characters, provided it has not already been registered during the Sunrise phase.

During this phase, Afnic will gradually apply price discounts.

General availability

March 17, 2015 15:00 (UTC+1, Paris time)

Starting from this date, any person may register domain names with 1 & 2 characters that were not registered during the Sunrise and Landrush phases.