12/17/2021
The new edition of the 'Réussir avec le web' ('Succeed on the web') annual study shows a rise in the online presence of French micro-enterprises and VSEs/SMEs and greater investment in tools and new functionalities to meet the expectations of their clients.
Retailers, VSEs and SMEs have adopted an online presence
68% of companies have a website. More than one in two VSEs/SMEs with a website has chosen the .fr domain.
While not all have the same level of proficiency or experience, 1/3 respondents estimate that they generate more than 30% of their revenue from their online presence.
80% of respondents use social networks to raise their profile, with the majority active on Facebook (89% of companies in 2020-2021 as opposed to 87% in 2019-2020), Instagram (61% as against 55%) and LinkedIn (49% as against 53%).
It is worth noting that 43% would not know how to evaluate the profitability of their time spent on social networks but consider it useful.
Development of e-commerce and customer experience
69% of VSEs/SMEs offer several payment methods on their website, as opposed to 62% in 2019-2020. This figure reaches 80% among VSEs as against 61% last year.
51% of the VSEs/SMEs questioned now propose a customer area online, whereas only 44% did in 2019-2020. The most significant increase occurred among VSEs (67% as against 45%) and SMEs (81% as against 62%).
Lastly, 45% of French VSEs/SMEs offered order tracking in 2020-2021, as opposed to 37% in 2019-2020. Once again, the most significant increase was seen among VSEs, 43% of which have adopted the service compared to 29% last year (+14%).
Download the full results of the study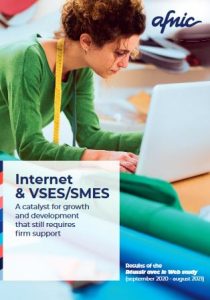 Online presence of French VSEs/SMEs [PDF – 4,46 MB]
About Afnic
Afnic is the acronym for Association Française pour le Nommage Internet en Coopération, the French Network Information Centre. The registry has been appointed by the French government to manage domain names under the .fr Top Level Domain. Afnic also manages the .re (Reunion Island), .pm (Saint-Pierre and Miquelon), .tf (French Southern and Antarctic Territories), .wf (Wallis and Futuna) and .yt (Mayotte) French Overseas TLDs.
In addition to managing French TLDs, Afnic's role is part of a wider public interest mission, which is to contribute on a daily basis, thanks to the efforts of its teams and its members, to a secure and stable internet, open to innovation and in which the French internet community plays a leading role. As part of that mission, Afnic, a non-profit organization, has committed to devoting 11% of its Revenues from managing .fr Top Level Domain to actions of general interest, in particular by transferring €1.3 million each year to the Afnic Foundation for Digital Solidarity.
Afnic is also the back-end registry for the companies as well as local and regional authorities that have chosen to have their own TLD, such as .paris, .bzh, .alsace, .corsica, .mma, .ovh, .leclerc and .sncf.
Established in 1997 and based in Saint-Quentin-en-Yvelines, Afnic currently has nearly 90 employees.