12/21/2021
After sponsoring Season 1, Afnic becomes co-producer with France Num, the French government initiative for the digital transformation of VSEs and SMEs, of "Connecte Ta Boite" ("Connect your Business"), an original TV programme on the digital transformation of enterprises created by Le Studio Next.
Season 1 traces the journeys of two shopkeepers, a craftsperson and a self-employed person as they make the transition to digitisation that is so essential for these businesses. Experts accompany them to provide concrete solutions for the everyday conduct of their business and to help them derive maximum advantage from digitisation.
At the end of each episode, entrepreneurs attest to their success and to how digitisation has helped them attain their objectives of becoming better known to prospects, winning over and earning the loyalty of new customers, reducing internal costs, rethinking their business models, finding new distribution channels, simplifying their accounting, securing their data, using a virtual assistant, and so on.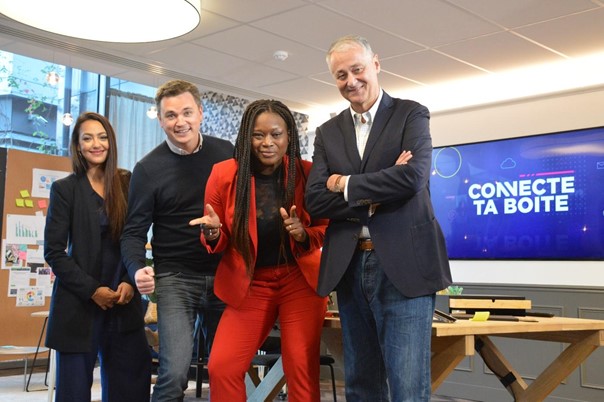 Who are the experts accompanying the enterprises in Connecte Ta Boite?
Philippe Bloch, writer, entrepreneur, lecturer and commentator on the BFM Business TV news channel
Mickaël Vigreux, head of sales with Afnic and Réussir-en.fr ("Succeeding with the .fr") expert
Sanaa Moussaïd, accountant specialising in digital transformation
Catherine Titi, digital strategy consultant
Season 2 presents the successful digital transformations of a family roofing business, a toy shop, a dietician, and a sports coach.
This new season is further enriched by two-minute video tutorials on essential digitisation themes: creating a digital safe, adopting electronic signatures, constructing an effective landing page for your website and choosing an internet address.
The programme is created by Le Studio Next together with France Num and Afnic, and broadcast on BFMTV, RMC Découverte, RMC Story and BFM Regions:
The episodes are available for replay after their initial broadcast on www.connectetaboite.fr
In partnership with France Num, Afnic has taken a further step by launching a podcast called "Connecte ta boite: ils l'ont fait!" (Connect your Business: they've done it!").
It contains portraits of six small businesses in the form of ten-minute reports sharing feedback on their experience and good practices in their digital transformation. The six audio episodes can be downloaded from the website of Réussir-en.fr, Afnic's support programme for online presence.
More information on the Connecte ta boite TV show on the France Num website
About Afnic
Afnic is the acronym for Association Française pour le Nommage Internet en Coopération, the French Network Information Centre. The registry has been appointed by the French government to manage domain names under the .fr Top Level Domain. Afnic also manages the .re (Reunion Island), .pm (Saint-Pierre and Miquelon), .tf (French Southern and Antarctic Territories), .wf (Wallis and Futuna) and .yt (Mayotte) French Overseas TLDs.
In addition to managing French TLDs, Afnic's role is part of a wider public interest mission, which is to contribute on a daily basis, thanks to the efforts of its teams and its members, to a secure and stable internet, open to innovation and in which the French internet community plays a leading role. As part of that mission, Afnic, a non-profit organization, donates 90% of its profits to its Foundation for Digital Solidarity. Afnic is also the back-end registry for the companies as well as local and regional authorities that have chosen to have their own TLD, such as .paris, .bzh, .alsace, .corsica, .mma, .ovh, .leclerc and .sncf.
Established in 1997 and based in Saint-Quentin-en-Yvelines, Afnic currently has 80 employees.