06/16/2022
The Afnic 2021 greenhouse gas emissions assessment stood at 638 tCO2eq, i.e. more than a 10% reduction in one year and 37% over three years.
In accordance with the agreement signed with the French State within the framework of the management of the .fr Internet Top Level Domain, Afnic has renewed its cooperation with EcoAct to calculate the 2021 greenhouse gas emissions balance (known under the acronym BEGES in French).
For 2021, this once again includes all of Afnic's activities (Scope 3) and represented 638 tCO2eq, i.e. more than a 10% reduction on 2020. This is an outstanding achievement in the context of the continued growth of the Afnic teams and activities. The Full Time Equivalent (FTE) balance sheet fell 15% in one year and 39% in 3 years and, by 8% and 46% respectively by domain name under management by Afnic over the same periods.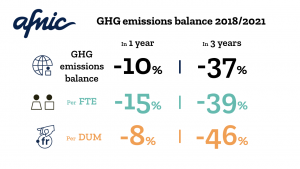 For the 2021 GHG emissions balance sheet, purchases of services (inputs) remain the main source of emissions (54% of the footprint) but are nonetheless down 11% in one year.
Energy is the second largest source representing 23% of the total footprint. The emissions are mainly linked to the energy consumption of data centres located abroad and overseas (84%), and to the Afnic head office (10%) and data centres in mainland France (6%). Note that this source is down 26% compared to 2020 thanks to the application of a new PUE (Power Usage Effectiveness) average for data centres equal to 1.8 (against 2.53 previously).
As in 2020, the health context and the continuation of remote working have had a positive impact on travel which represents just 11% of the carbon balance, compared to almost one-quarter in 2018. Afnic placed particular importance on measuring and including the impact of remote working in its Carbon Assessment.
Fixed assets (Afnic head office premises and IT equipment) account for 11% of the global footprint (-12% compared to 2020). Waste and freight represent less than 1% of emissions.
Within the framework of the new agreement signed with the French State for the management of the .fr Top Level Domain, Afnic has committed to achieving carbon neutrality in its activities through the implementation of a new plan to reduce its greenhouse gas emissions and a carbon compensation policy.
About Afnic
Afnic is the acronym for Association Française pour le Nommage Internet en Coopération, the French Network Information Centre. The registry has been appointed by the French government to manage domain names under the .fr Top Level Domain. Afnic also manages the .re (Reunion Island), .pm (Saint-Pierre and Miquelon), .tf (French Southern and Antarctic Territories), .wf (Wallis and Futuna) and .yt (Mayotte) French Overseas TLDs.
In addition to managing French TLDs, Afnic's role is part of a wider public interest mission, which is to contribute on a daily basis, thanks to the efforts of its teams and its members, to a secure and stable internet, open to innovation and in which the French internet community plays a leading role. As part of that mission, Afnic, a non-profit organization, has committed to devoting 11% of its Revenues from managing .fr Top Level Domain to actions of general interest, in particular by transferring €1.3 million each year to the Afnic Foundation for Digital Solidarity.
Afnic is also the back-end registry for the companies as well as local and regional authorities that have chosen to have their own TLD, such as .paris, .bzh, .alsace, .corsica, .mma, .ovh, .leclerc and .sncf.
Established in 1997 and based in Saint-Quentin-en-Yvelines, Afnic currently has nearly 90 employees.