04/27/2020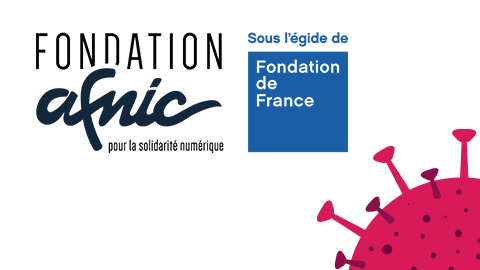 The context of the COVID-19 health crisis and the ensuing lockdown measures has brought to light the role of digital technology in the day-to-day lives of people in France, and has highlighted serious inequalities. The Afnic Foundation supports various local initiatives designed to reduce these divisions and to restore the social link, including the following:
Collège La Courtille, Saint-Denis: 
The Afnic Foundation is contributing €10,000 of funding towards the purchase of computers for pupils without to allow them to follow classes from home. A total of 200 pupils are concerned. This budget will initially be used to equip some fifty pupils. Once the equipment has been delivered and the teaching supervision put in place, the school may apply to the Foundation to help supply other pupils.
Les Chemins de l'Espérance – nursing homes: 
The Les Chemins de l'Espérance association encompasses 20 nursing homes that care for around 1,600 people. In order to maintain the human contact that is central to their assistance programme, each establishment will be equipped with connected PA systems, microphones and speakers so that the residents can watch from their windows or join in with the activities run in the courtyard and the gardens of the nursing homes: singing, karaoke, quizzes, etc. The Afnic Foundation is contributing €10,000 to this project amounting to a total of €70,000.
The Afnic Foundation is contributing €10,000 to organise, in cooperation with volunteers, 7 hours of digital support for 150 applicants in their online job hunt and to help them prepare for interviews in April (online search, web interview, use of jobboards, etc.).
"The Afnic Foundation is receiving many requests during this crisis that is seeing digital technology play a predominant role: as a work tool, a media central to education, the sole way to maintain the weakened social link during lockdown… In this context, our goal to support an inclusive Internet accessible to all is more vital than ever: these are just the first projects we are helping support, but hundreds more are under examination!" says Philippe Distler, President of the Afnic Foundation.
About the Afnic Foundation
The Afnic Foundation for Digital Solidarity was set up in April 2015 by Afnic. It aims to support the development of an inclusive Internet, as well as improving training and awareness of its uses by supporting local and formative digital solidarity initiatives and research projects in the field of digital solidarity. Following four calls for proposals, the Afnic Foundation has to date contributed €3.7 million to 176 projects. For further information, please visit www.fondation-afnic.fr.
About Afnic
Afnic is the acronym for Association Française pour le Nommage Internet en Coopération, the French Network Information Centre. The registry has been appointed by the French government to manage domain names under the .fr Top Level Domain. Afnic also manages the .re (Reunion Island), .pm (Saint-Pierre and Miquelon), .tf (French Southern and Antarctic Territories), .wf (Wallis and Futuna) and .yt (Mayotte) French Overseas TLDs.
In addition to managing French TLDs, Afnic's role is part of a wider public interest mission, which is to contribute on a daily basis, thanks to the efforts of its teams and its members, to a secure and stable internet, open to innovation and in which the French internet community plays a leading role. As part of that mission, Afnic, a non-profit organization, has committed to devoting 11% of its Revenues from managing .fr Top Level Domain to actions of general interest, in particular by transferring €1.3 million each year to the Afnic Foundation for Digital Solidarity.
Afnic is also the back-end registry for the companies as well as local and regional authorities that have chosen to have their own TLD, such as .paris, .bzh, .alsace, .corsica, .mma, .ovh, .leclerc and .sncf.
Established in 1997 and based in Saint-Quentin-en-Yvelines, Afnic currently has nearly 90 employees.