09/02/2021
.FR, the French top level domain operated by Afnic celebrates its 35th anniversary and continues its growth, which has allowed it to increase by 7% in 2020.
The result of 35 years of technical excellence, .fr shines today for the trust it inspires, in addition to being a pioneer in digital solidarity and in the digital transformation of French businesses.
Today, Afnic is celebrating the 35th anniversary of .fr.  With 3.82 million .fr domain names registered in September 2021, the French ccTLD (Country Code Top Level Domain) is one of the most dynamic national domains in the world and can claim a market share of 38%, its highest level ever. .fr thus continues to reduce the gap with .com, which holds 44% of the French market*.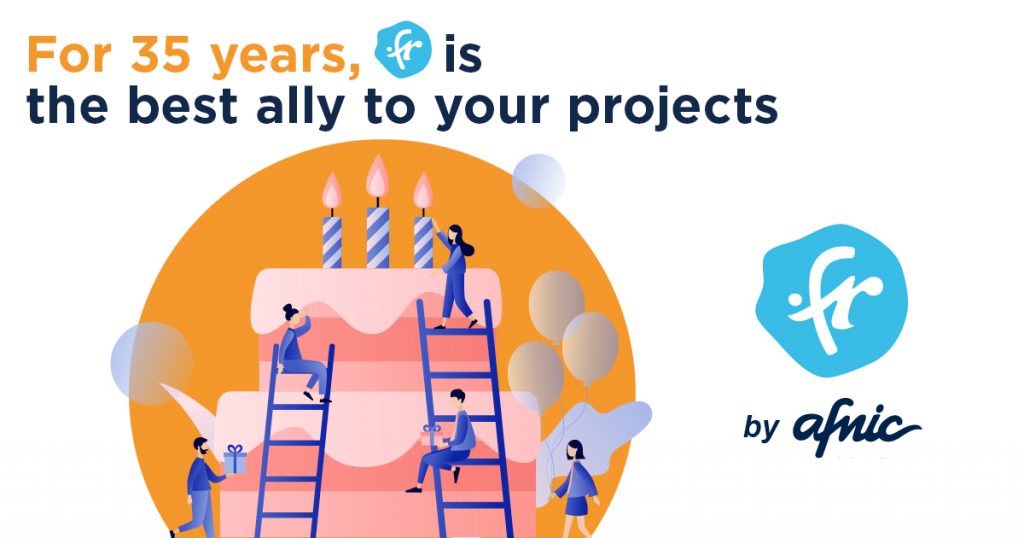 On September 2, 1986, .fr made its first steps at INRIA (National Institute for Research in Digital Science and Technology); then mainly used by academics. In 1997, as the number of users and sellers of .fr grew, INRIA and the French Ministries of Industry, Telecommunications and Research created Afnic, which received delagation to administer .fr.
First reserved for French companies, the .fr domain began its revolution in 2004. It became more accessible, without losing any of its reliability. The extension opens to individuals in 2006 and fully participates in the digital transformation of France. The .fr, now distributed by 400 registrars, is indeed an inexpensive and trusted extension, and its popularity, which makes France shine on the Internet, cannot be denied. As proof, 91% of French VSEs/SMEs consider that a .fr address is a guarantee of trust**.
For each .fr domain registered, Afnic donates 90% of the profits to digital inclusion projects throughout France via the Afnic Foundation. In 2020, over one million euros were distributed to 69 projects in 13 metropolitan regions as well as in Guadeloupe, Guyana and Martinique.
Afnic is also multiplying its actions in favor of the digital transformation of VSEs/SMEs, through its Réussir en .fr platform where entrepreneurs can get a free diagnosis of their online presence and advice, or the Foliweb workshops, which attracted more than 20,000 participants last year, but also 18,000 in 2019 and 17,000 in 2018.
---
*Source ZookNic at 30/06/2021
**Source Afnic study, conducted by MV2 Group, November 2019 on a panel of 400 VSEs/SMEs
About Afnic
Afnic is the acronym for Association Française pour le Nommage Internet en Coopération, the French Network Information Centre. The registry has been appointed by the French government to manage domain names under the .fr Top Level Domain. Afnic also manages the .re (Reunion Island), .pm (Saint-Pierre and Miquelon), .tf (French Southern and Antarctic Territories), .wf (Wallis and Futuna) and .yt (Mayotte) French Overseas TLDs.
In addition to managing French TLDs, Afnic's role is part of a wider public interest mission, which is to contribute on a daily basis, thanks to the efforts of its teams and its members, to a secure and stable internet, open to innovation and in which the French internet community plays a leading role. As part of that mission, Afnic, a non-profit organization, has committed to devoting 11% of its Revenues from managing .fr Top Level Domain to actions of general interest, in particular by transferring €1.3 million each year to the Afnic Foundation for Digital Solidarity.
Afnic is also the back-end registry for the companies as well as local and regional authorities that have chosen to have their own TLD, such as .paris, .bzh, .alsace, .corsica, .mma, .ovh, .leclerc and .sncf.
Established in 1997 and based in Saint-Quentin-en-Yvelines, Afnic currently has nearly 90 employees.