Over 4 million .fr domain names are used every day by businesses, private individuals and associations to reach their audiences and accentuate their geographical link both in France and abroad. With a powerful infrastructure and over 400 accredited registrars across the territory, Afnic and its ecosystem contribute to creating a trusted digital space.
Optimum visibility among French internet users
The .fr domain name reinforces the feeling for internet users that the business is present on the French territory, and therefore is easier to contact if need be. For e-commerce websites in particular, having a .fr address is not only an initial guarantee of proximity and responsiveness, but also a sign that the offer has been designed with French internet users in mind, and in accordance with regulations that protect French consumers.
Key figure
+12 %
registrations in 2021 versus 2019
Stability, performance and security
By building on a Naming Charter that respects the general interest, is attentive to respect for the rights of third parties and rigorous when it comes to technical quality, Afnic maintains a high level of stability and performance for the .fr naming space, ensuring that .fr domain names remain accessible, anywhere on the planet. For more than twenty years, we have worked to reinforce the robustness and resilience of our infrastructure, the security of our systems and the simplicity of our services. That is what makes .fr an accessible, simple and secure product at a cost around 30% lower than the .com.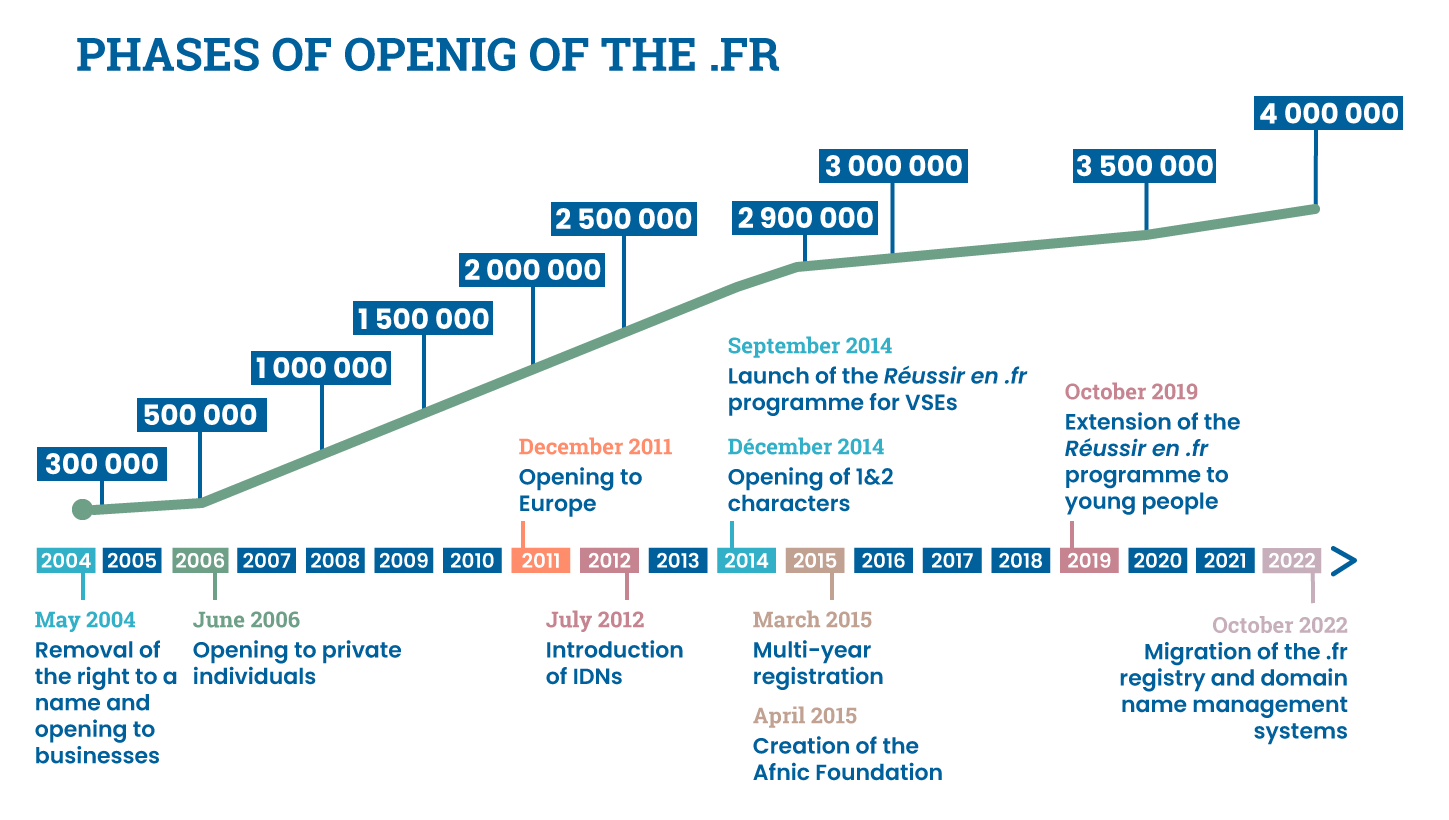 Phases of opening of the .fr
A 24/7 service for registrars
To help partner distributors carry out their mission and develop their business, we have put in place dedicated support combining technical expertise and responsiveness. Each registrar has an assigned account manager and technical support available 24/7, in French and English, as well as a steering and performance tracking tool. Every year, we carry out a dozen custom and targeted commercial operations to reinforce the relationship and develop our partners' business. 
100% of registrars say they are very satisfied or satisfied with their Afnic account manager and technical support. Almost all calls are handled in less than three minutes (with a call-back system in the event of a wait); and almost 99% of requests receive a tailored response in less than two days. 
Sources: MV2 Group group study for Afnic, June 2022; Registrar satisfaction survey, 2022
Do you want to become a .fr registrar?
 .fr is exclusively issued by Afnic accredited registrars. Established throughout France, they are the valuable link that connects French people and their .fr. 
Obtain your accreditation application