03/01/2021
Afnic and the Institut de la Souveraineté Numérique have published a report, which analyses the industrial and regulatory issues entailed in the development of the Internet of Things in France and the European Union.
Internet of Things (IoT) technologies are transforming the industrial landscape in a range of fields such as health, transport, energy management, environmental control and banking and insurance. The IoT is an important area for strategic development for French and European industrialists and poses new challenges, both for users and for private and public players, in terms of security, protection of personal data, the safeguarding of fundamental rights and environmental protection.
This report outlines the industrial prospects of these technologies in various fields and looks at new forms of regulation that could apply to these technologies. It also analyses their impact on the functioning of our organisations, administrations and more generally our societies.
Finally, the report puts forward proposals on industrial policies, which will enable the European IoT community to develop new generations of services that respect the democratic principles and values of European societies.
Pierre Bonis, CEO of Afnic, comments: "With the Internet of Things being rolled out everywhere, now is the time to reflect on the conditions for developing these technologies, and also Europe's autonomy in this strategic area. At Afnic, we have been involved for several years in R&D projects dedicated to the IoT. Afnic is also active in developing standards that support responsible innovation where the IoT is concerned."
The Internet of Things & Digital Sovereignty report is published in French and English. It is intended for French and European tech players and public decision-makers, but is also of general interest to citizens who wish to know more about the economic, social and political transformations brought about by the Internet of Things.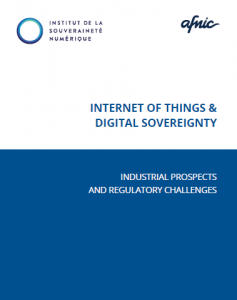 Download the report "Internet of Things & Digital Sovereignty"
About the ISN
The Institut de la Souveraineté Numérique (ISN) is a non-profit association whose mission is to bring together digital and economic actors in order to create synergy in the challenges posed by European digital sovereignty. Since its foundation in 2015, the ISN has been committed to educating and mobilizing citizens and their representatives on digital sovereignty challenges. The ISN recommends technological, legal and political actions and measures enabling digital sovereignty to be asserted over all of our digital resources and in particular over our data. Lastly, the ISN seeks to contribute to the digital transformation of the French government to ensure protection of our sovereignty and to preserve our individual and collective freedoms at the same time. In accordance with the European principles and values of freedom and transparency, its aim is to promote new forms of sovereignty in France and more generally in Europe. For more information, please visit www.souverainetenumerique.fr and @SouveraineteNum
About Afnic
Afnic is the acronym for Association Française pour le Nommage Internet en Coopération, the French Network Information Centre. The registry has been appointed by the French government to manage domain names under the .fr Top Level Domain. Afnic also manages the .re (Reunion Island), .pm (Saint-Pierre and Miquelon), .tf (French Southern and Antarctic Territories), .wf (Wallis and Futuna) and .yt (Mayotte) French Overseas TLDs.
In addition to managing French TLDs, Afnic's role is part of a wider public interest mission, which is to contribute on a daily basis, thanks to the efforts of its teams and its members, to a secure and stable internet, open to innovation and in which the French internet community plays a leading role. As part of that mission, Afnic, a non-profit organization, has committed to devoting 11% of its Revenues from managing .fr Top Level Domain to actions of general interest, in particular by transferring €1.3 million each year to the Afnic Foundation for Digital Solidarity.
Afnic is also the back-end registry for the companies as well as local and regional authorities that have chosen to have their own TLD, such as .paris, .bzh, .alsace, .corsica, .mma, .ovh, .leclerc and .sncf.
Established in 1997 and based in Saint-Quentin-en-Yvelines, Afnic currently has nearly 90 employees.