Afnic provides turnkey back-end registry solutions and the highest level of functionalities on the market to support brands, territories and all other project initiators in rolling out a custom TLD to consolidate their digital strategy.
With the approaching ICANN (Internet Corporation for Assigned Names and Numbers) opening of applications for new TLDs in view, Afnic is on hand to assist future candidates. As with the previous opening in 2012, it can assess the advisability of taking the leap, then support candidates with their application thanks to its expertise and back-end solutions. 
Specifically tailored services
Already a supplier of back-end and registry services for 13 gTLDs (including the .paris, .bzh, .leclerc, .sncf and .museum), Afnic proposes services specifically tailored to: 
organisations and brands

wanting to control their digital territory and stand out by offering products and services in an authentic and trusted space;

territories

wanting to develop the attractiveness of their city or region by strengthening their link with their community thanks to a unique and innovative digital territory;

all other project initiators

wanting to roll out a digital strategy based on a new tool or community participation.
Become a registry thanks to our turnkey solutions
We provide turnkey solutions for a ready-to-use TLD and entirely independent management, to help you achieve your development goals. 
Our offers include all of the technical and functional elements needed to manage a TLD on a daily basis, without the need to subscribe to additional services, whatever the TLD type (open or closed domain).
Our aim: to facilitate your registry activity on a daily basis thanks to simple-to-use back-end solutions at an accessible rate, allowing you to focus on your strategic missions.
A guarantee of the highest standards and functionalities
We provide a high technical and functional standard – with security guarantees in line with ICANN requirements.
We provide a secure registry interface allowing you to:
manage your distribution network and domain name registrations 

monitor the commercial performance and technical configuration of your TLD

carry out promotional operations and handle your invoicing

meet ICANN requirements for abuse management
Tailored support in line with your ambitions
Our experts are on hand to provide tailored and comprehensive support for all aspects of a TLD project (technical, legal, registry policy, marketing and commercial). 
Before launching your TLD, Afnic helps assess the relevance of your project based on your brand positioning or the dynamic of your community. We help you establish a suitable structure and a road map to ensure the success of your project.
Once your TLD is launched, we help you assess and determine your marketing and commercial actions based on your market, thanks to our multi-registry experience.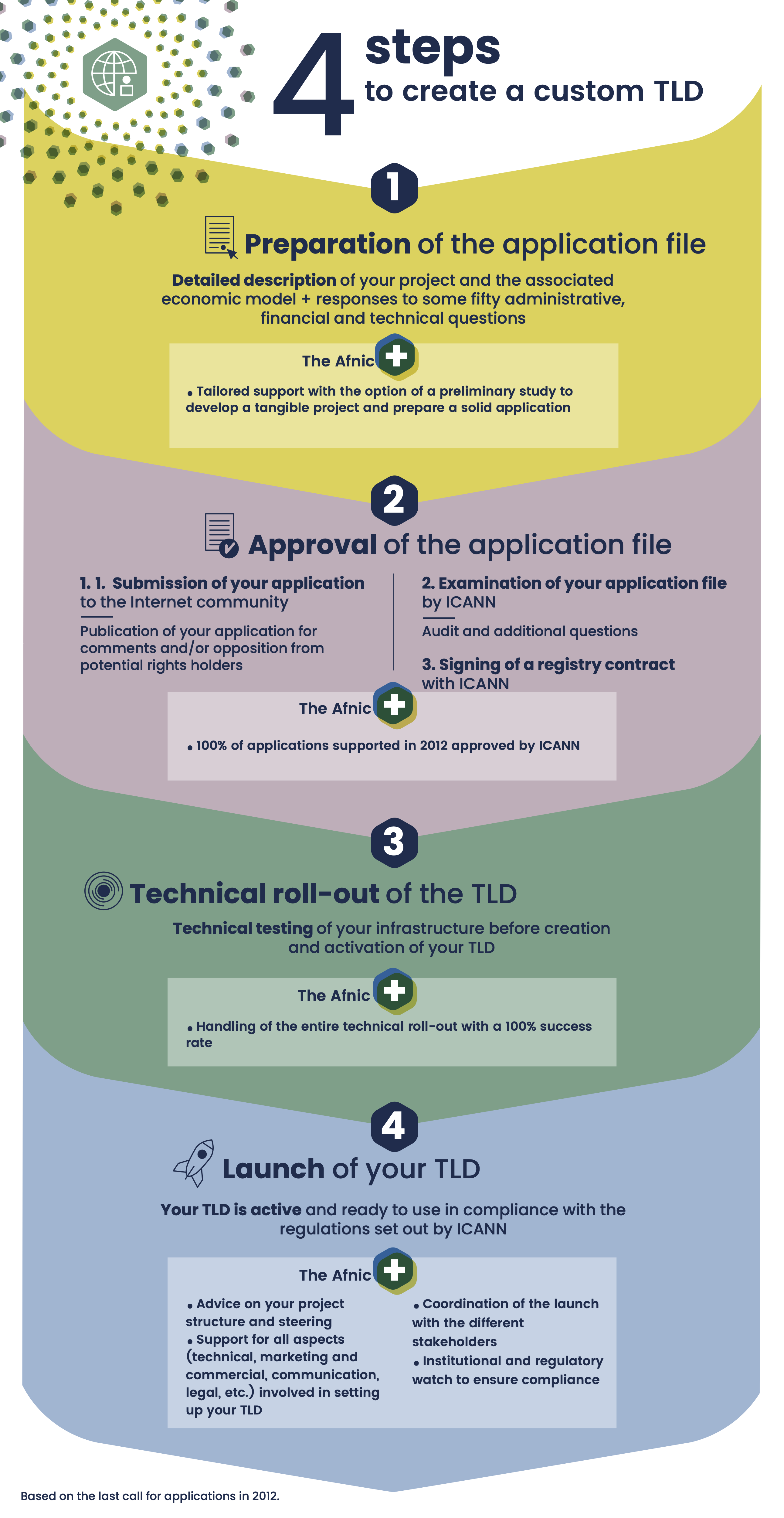 4 steps to create a custom TLD
Registrars: become a partner
Our back-end registry solutions can also be incorporated into the offerings of our partner registrars looking to propose this service to their customers. 
Referencing our back-end solutions in your offering allows you to:
combine your expertise as a registrar with that of Afnic as a back-end registry operator;

expand your range of services by using Afnic's knowledge, skills and tools for the benefit of your customers as part of their gTLD project.
Afnic is available to discuss the arrangements for incorporating this service in your catalogue.