10/12/2023
The 2023 edition of the Legal Meetings was held on the morning of Tuesday 19 September in collaboration, for the first time, with speakers external to Afnic. This year the theme addressed was "Domain names: where do we stand in the fight against abuse?"
For the seventh consecutive year of the Legal Meetings, Afnic was true to its objective of creating a day of convivial get-together, allowing an exchange of views on current issues relating to domain names. Nearly 60 participants attended in response to the invitation.
In addition to Afnic's legal team, for the first time the event also welcomed actors from a variety of other backgrounds: Gaël Mancec, a legal specialist in intellectual property with Germain Maureau; Nicolas Pawlak, initiator of the Red Flag Domains project, and Émilie Turbat, Marketing and Commercial Director with Afnic.
The salient points of the meeting
For this edition, Afnic placed the stress on the fight against abuse linked to domain names and introduced new legal tools aimed at strengthening measures in this regard.
Domain names: where do we stand in the fight against abuse? Feedback from an IP legal expert
Gaël Mancec, a specialist in matters relating to the protection of domain names, threw some light on trends in domain name abuse, strategies for protection that can be put in place by means of the available tools and their effectiveness.
Gaël Mancec highlighted the significant stakes involved in domain name abuse given the economic impact on businesses and private individuals: from false SMS, sponsored advertisements, through identity theft, interception of emails to fake bank particulars. He also demonstrated that online scams were becoming increasingly complex and credible thanks to an organized ecosystem featuring fake Google listings and employees' opinions. The proliferation of these forms of abuse means actors need to design robust strategies for managing domain names.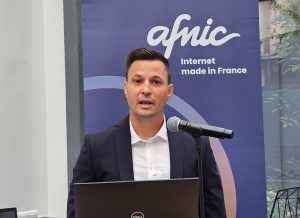 Gaël Mancec thus stressed the important role of the ccTLD and gTLD registries in these arrangements for combating domain name abuse, stressing that the .fr TLD was characterized by mechanisms that were singular, innovative and effective.
To illustrate these phenomena, Julie Menant, Legal Specialist with Afnic, shared the figures and key decisions taken in the context of SYRELI, one of the alternative dispute resolution (ADR) procedures, relating to abusive practices. Of the 2,435 SYRELI decisions handed down since the procedure was launched, 10.7% concerned the presence of abusive practices.
You can find the decisions relating to abusive practices on the SYRELI website: https://syreli.fr/fr/decisions
Following on from what Gaël Mancec demonstrated, participants were able to see that the SYRELI College could often be confronted with abuse of domain names via websites or email addresses. Current SYRELI practice demonstrably takes account of scams, phishing and cybersquatting when considering its decisions, with enhanced vigilance.
To perfect its checks on abuse, Afnic relies on an instrument allowing it to keep watch on certain registered domain names, namely those on the list published by Red Flag Domains.
Red Flag Domains: the new tool created by Nicolas Pawlak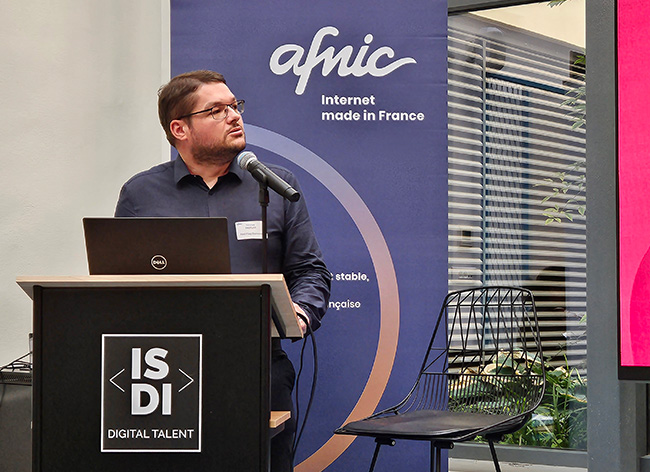 The Red Flag Domains project is a website created independently by Nicolas Pawlak, on which he provides a daily list of domain names registered under the .fr TLD and the French overseas TLDs .re, .pm, .tf and .wf., which are likely to be subject to abuse. This publication is essentially fed by the daily list of domain names published by Afnic. Starting out from these data, Nicolas Pawlak has developed a filtering system that combines human and automated analysis of the composition of the domain name and its registration details.
Julie Corbin Grandman, Administrative and Legal Manager with Afnic, explained that Afnic's legal service regularly used this tool to perfect its checking of domain names likely to be abusive.
She also recalled that in the past three years the service has increased its checking capabilities by means of procedures for verifying domain name holders' data. In 2021, 1,698 requests for verification were initiated in the whole year, whereas between January and August 2023, 4,585 requests were made. This significant increase is explained by our ability to target and detect abuse trends more effectively thanks to our tools.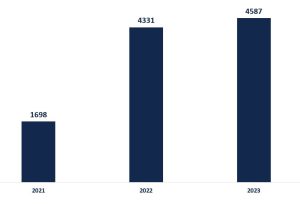 Afnic and those present praised Nicolas Pawlak for his daily investment in the fight against abuse and his success in conveying his enthusiasm for domain names in his presentation and combining it with a touch of humour.
Afnic's new procedure: Mediation
Marianne Georgelin, Legal Director with Afnic, indicated that the launch of this procedure had been a success, with one mediation case currently being filed every day on average. The aim is to establish this new procedure upstream of the dispute resolution procedures. Mediation offers rapid, free and confidential resolution that facilitates dialogue between the parties with a view to reaching an amicable settlement, accompanied by a mediator.
The presentation of this procedure gave rise to numerous questions from participants, showing their interest in this new way of resolving disputes. Afnic will publish an initial stock-taking report in the coming months.
Afnic's participation plans: graded sanctions and training courses
Émilie Turbat, Marketing and Commercial Director with Afnic, presented in her roadmap some of Afnic's commitments to the State and the procedures for graded sanctions on accredited .fr and French overseas TLD registrars for not fulfilling their commitments in the fight against abuse. In this respect we urge you to take part in the public consultation scheduled for October.
Lastly, Afnic has announced the launch of the first session of its training programme "Domain names and online abuse" designed for registrars and intellectual property professionals, scheduled for 16 and 17 November 2023. This programme aims to provide training on how to advise clients on suitable solutions, identifying and classifying instances of abuse in naming and implementing defensive strategies and solutions to put a stop to abuse and its consequences.
As you will have seen, the annual organization of the Legal Meetings forms an integral part of Afnic's investment in the continuous improvement of abuse management.
These get-togethers promote solidarity and proximity in a community that is mobilizing to improve the legal system for French domain names.
We look forward to seeing you again next year to continue our progress towards this goal!