07/07/2022
Afnic, the association responsible for .fr Internet domain names, has published its annual report and determined that the past year has been one of confirmations.
Confirmation, first and foremost, of our role as the .fr registry given that our Association was re-appointed by the French government for a new public service concession for the next five years.
Confirmation also clearly seen in our ability to reinforce our services through the go-live of our new domain name registration system and in our contribution to the momentum of the digital transformation of France, notably visible in the growing number of .fr registrations. 2021 was also a year of structuring and roll-out when it came to our CSR (Corporate Social Responsibility) initiative, under which access to essential services, maintaining affordable prices, support for an online presence, combating abuse, the security of personal data and the defence of domain name holders' rights all represent vital elements of our approach and our vision of Afnic's responsibility.
2022 will see Afnic complete a rich three-year strategic cycle, and it is significant to note, through this 2021 report, all of these confirmations, which counterbalance the uncertain context.
Find out more: Afnic activity report 2021 [Link]
Download the Annual Report 2021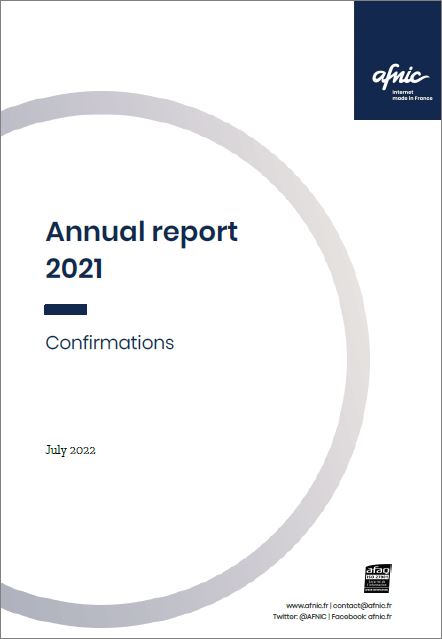 About Afnic
Afnic is the acronym for Association Française pour le Nommage Internet en Coopération, the French Network Information Centre. The registry has been appointed by the French government to manage domain names under the .fr Top Level Domain. Afnic also manages the .re (Reunion Island), .pm (Saint-Pierre and Miquelon), .tf (French Southern and Antarctic Territories), .wf (Wallis and Futuna) and .yt (Mayotte) French Overseas TLDs.
In addition to managing French TLDs, Afnic's role is part of a wider public interest mission, which is to contribute on a daily basis, thanks to the efforts of its teams and its members, to a secure and stable internet, open to innovation and in which the French internet community plays a leading role. As part of that mission, Afnic, a non-profit organization, has committed to devoting 11% of its Revenues from managing .fr Top Level Domain to actions of general interest, in particular by transferring €1.3 million each year to the Afnic Foundation for Digital Solidarity.
Afnic is also the back-end registry for the companies as well as local and regional authorities that have chosen to have their own TLD, such as .paris, .bzh, .alsace, .corsica, .mma, .ovh, .leclerc and .sncf.
Established in 1997 and based in Saint-Quentin-en-Yvelines, Afnic currently has nearly 90 employees.