09/29/2020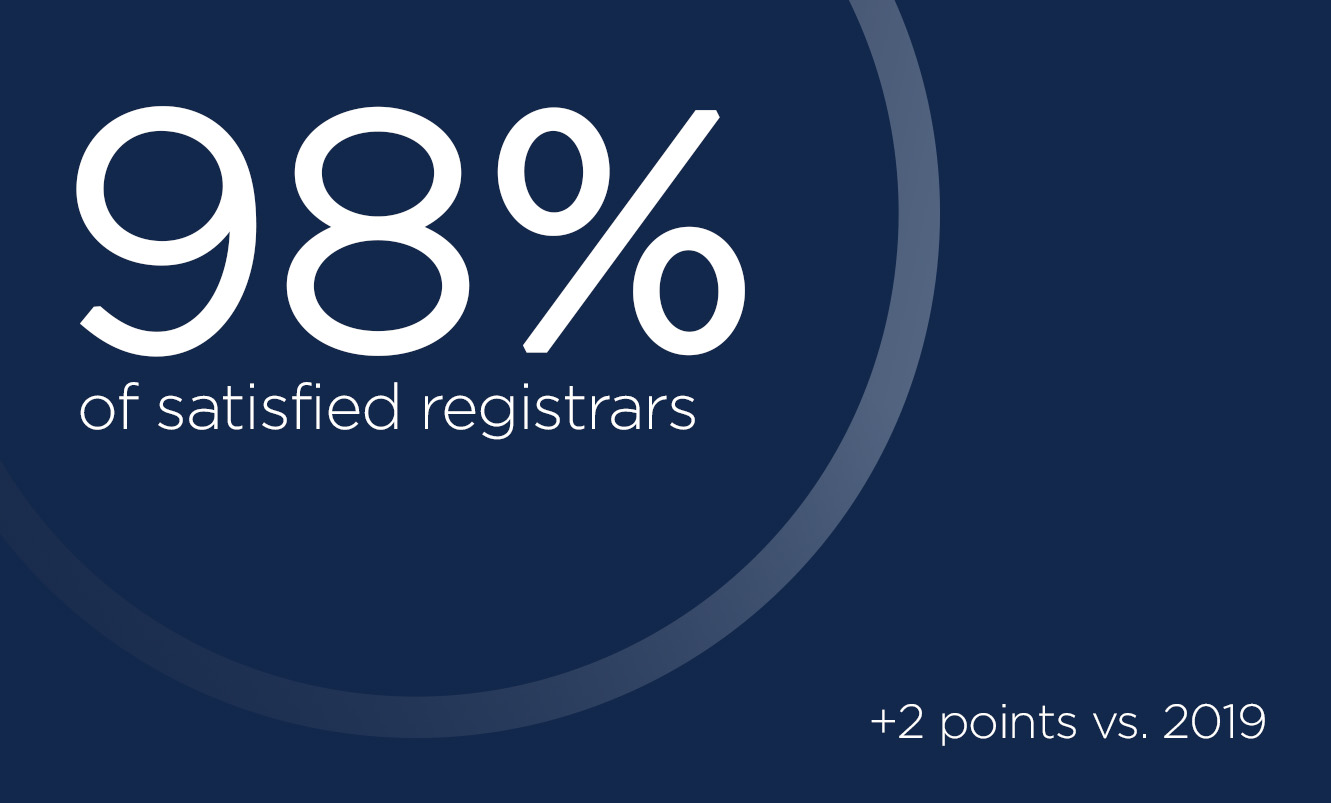 Afnic conducts a satisfaction survey every year to get feedback from its Registrar clients. This year, the survey was run online from 20 April to 19 May 2020 and was overseen by the MV2 institute.
98% of respondents stated they were satisfied with Afnic's services (63% entirely satisfied, 35% satisfied), up 2 points compared to 2019.
The recommendation score was up 9 points compared to 2019, with 96% of respondents willing to recommend Afnic for its products and services.
Relations with our customer representatives scored a 100% satisfaction rate this year for their availability, the quality of their responses, the quality of customer relations and the quality of their assistance in sales development.
Respondents were then asked to rate the communication sources available: although the website consultation rate dropped slightly this year (to 80%) despite content deemed relevant by 96% of respondents, consultation of social networks more than doubled to reach 23%.
As for the overall perception of Afnic, registrars see it as professional and innovative. Compared to the competition, registrars rated the Afnic registration system and customer service above those of other registries, as well as its assistance in commercial operations to promote .fr and its ability to boost sales on an everyday basis.
Afnic would like to thank the respondents for their valuable feedback, which helps better evaluate its performance and leads to advances in the quality and nature of the services provided.
About Afnic
Afnic is the acronym for Association Française pour le Nommage Internet en Coopération, the French Network Information Centre. The registry has been appointed by the French government to manage domain names under the .fr Top Level Domain. Afnic also manages the .re (Reunion Island), .pm (Saint-Pierre and Miquelon), .tf (French Southern and Antarctic Territories), .wf (Wallis and Futuna) and .yt (Mayotte) French Overseas TLDs.
In addition to managing French TLDs, Afnic's role is part of a wider public interest mission, which is to contribute on a daily basis, thanks to the efforts of its teams and its members, to a secure and stable internet, open to innovation and in which the French internet community plays a leading role. As part of that mission, Afnic, a non-profit organization, has committed to devoting 11% of its Revenues from managing .fr Top Level Domain to actions of general interest, in particular by transferring €1.3 million each year to the Afnic Foundation for Digital Solidarity.
Afnic is also the back-end registry for the companies as well as local and regional authorities that have chosen to have their own TLD, such as .paris, .bzh, .alsace, .corsica, .mma, .ovh, .leclerc and .sncf.
Established in 1997 and based in Saint-Quentin-en-Yvelines, Afnic currently has nearly 90 employees.