05/31/2022
Produced by Réussir-en.fr ("Succeed with .fr") and derived from the France Num TV programme, the podcast series "Connecte ta boîte : ils l'ont fait" ("Connect your Business: they've done it!") is setting out again as part of its second season to meet entrepreneurs who have had a dazzling start to their digital transformation.
Presenter Philippe Bloch is on a mission to spend a day with tradespersons, retailers and self-employed professionals who have digitised their business in order to show how having an online presence is simple, accessible to all, and above all a vector for visibility and growth.
In conjunction with this season, Réussir-en.fr – the Afnic programme to support VSEs/SMEs with each stage of their online presence – is unveiling two new and previously unheard audio testimonials:
Clément, luthier in Orléans
Clément has been making and restoring electric guitars and bass since 2018 and has decided to reinvent his line of work thanks to online tools. In this episode, discover how he made his website into the nucleus of his business and the practices he uses to build his brand image and set himself apart online.
Anne-Sophie and Adrien, foodtruck owners in Trets
For the last year, Anne-Sophie and Adrien have been serving typical Sicilian dishes to their foodtruck customers. The successful launch of their website and the engagement generated by the activity of their communities have enabled them to develop and go on to diversify their business. Discover the many challenges they had to overcome… and those that still await!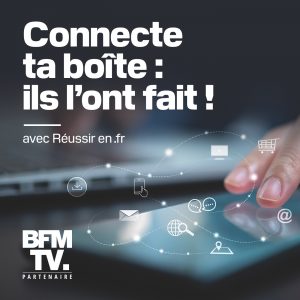 These first two episodes of "Connecte ta boîte : ils l'ont fait" are available to listen to on [lien] Future testimonials will be available in September.
Find out more:
The podcast series Connecte ta boite : ils l'ont fait is co-produced by Afnic's Réussir en .fr programme. Connecte ta Boite is a TV programme created by France Num – the French government initiative for the digital transformation of VSEs and SMEs – in partnership with Le Studio Next and sponsored by Afnic.
About Afnic
Afnic is the acronym for Association Française pour le Nommage Internet en Coopération, the French Network Information Centre. The registry has been appointed by the French government to manage domain names under the .fr Top Level Domain. Afnic also manages the .re (Reunion Island), .pm (Saint-Pierre and Miquelon), .tf (French Southern and Antarctic Territories), .wf (Wallis and Futuna) and .yt (Mayotte) French Overseas TLDs.
In addition to managing French TLDs, Afnic's role is part of a wider public interest mission, which is to contribute on a daily basis, thanks to the efforts of its teams and its members, to a secure and stable internet, open to innovation and in which the French internet community plays a leading role. As part of that mission, Afnic, a non-profit organization, has committed to devoting 11% of its Revenues from managing .fr Top Level Domain to actions of general interest, in particular by transferring €1.3 million each year to the Afnic Foundation for Digital Solidarity.
Afnic is also the back-end registry for the companies as well as local and regional authorities that have chosen to have their own TLD, such as .paris, .bzh, .alsace, .corsica, .mma, .ovh, .leclerc and .sncf.
Established in 1997 and based in Saint-Quentin-en-Yvelines, Afnic currently has nearly 90 employees.